garage door repair near you in Castle Rock
People who care, services you can count on
Overhead Door Company of Castle Rock™️  is proud to provide homeowners a massive inventory of products along with superior service. We're committed to providing Central Colorado homeowners with a top-notch experience from start to finish. We accomplish this with a highly experienced and dedicated staff, who will work tirelessly to ensure all of your needs are met.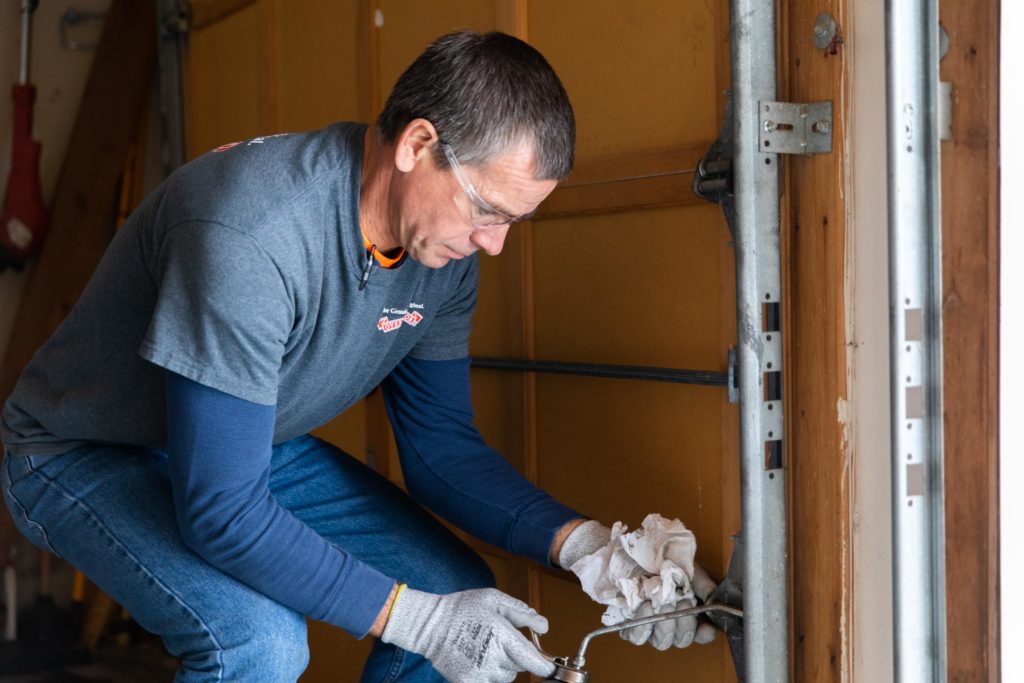 Garage Door Repair
Don't let a broken garage door bring your day down. Our certified technicians can lift you up and get your door running again with prompt repair and 24/7 emergency service.
Garage Door Spring Repair
SAME DAY service. Broken garage door springs are a major hazard if they aren't tended to. Damage to your door and home, as well as injury to pets and family, can occur without professional care. If your springs need a fix, contact Overhead Door Company of Castle Rock™.
Garage Door Opener Repair
We repair all brands of garage door openers. Don't let a broken garage door opener shut down your day. Our professional technicians can help with same day service and dependable solutions.
Planned Maintenance Program
How do you avoid issues with your door? By making a concerted effort for prevention. With a planned maintenance program from Overhead Door Company of Castle Rock™, you'll receive annual inspections for your door that will help spot any potential issues before they become costly headaches down the road.
Additional Repairs & Services
Garage Door Installation
Overhead Door Company of Castle Rock™️ strives to make garage door installation as simple as possible. From start to finish, we'll work with you to ensure that your home has a beautiful garage door that functions at a high level for years to come. We'll even recycle your old garage door! Dependability and trust are at the heart of what we do, and we have the reliable service you can count on.
Electric Garage Door Openers 
Being able to manage your garage door safely is an essential function for any home. Our highly qualified staff has the knowledge and expertise to help point out any issue with your garage door opener, and the experience to provide prompt service when needed. We also offer a comprehensive inspection of the entire garage door opener, from the motor to the mounting. 
Repair All Brands of Existing Openers
The technicians at Overhead Door Company of Castle Rock™️ are capable of repairing or installing any garage door opener, regardless of brand, make, or model!
Garage Door Torsion Spring Replacement
Torsion springs help your garage door function and are crucial in maintaining the long-term health of your door. With that being said, it's imperative to recognize any potential hazards. Without the proper precautions, hazards such as a collapsed door or flying metal are possible. If you need repair, we highly recommend contacting an expert in order to get the best results.
Repair Off-Track Garage Doors
If you have a garage door that's off its track, your risk of a collapsed door is substantially increased. An experienced technician from Overhead Door Company of Castle Rock™️ can assist with professional service that helps ensure the long-term operation of your door.
Repair Sagging Garage Doors
Natural shifting to your home and garage door can lead to your door becoming misaligned over time. That's why it's important to re-align your door every so often. An Overhead Door™️ brand technician can help provide inspection and repair services to help.
Garage Door Panel Replacement
One of the most common repairs our technicians do is replacement of a single section or panel of a garage door. Overhead Door Company of Castle Rock™️ can ensure a prompt solution that lasts with professional service. From weather damage to accidents, to the natural aging process, our technicians can provide excellent service that helps prevent the total replacement of your garage door.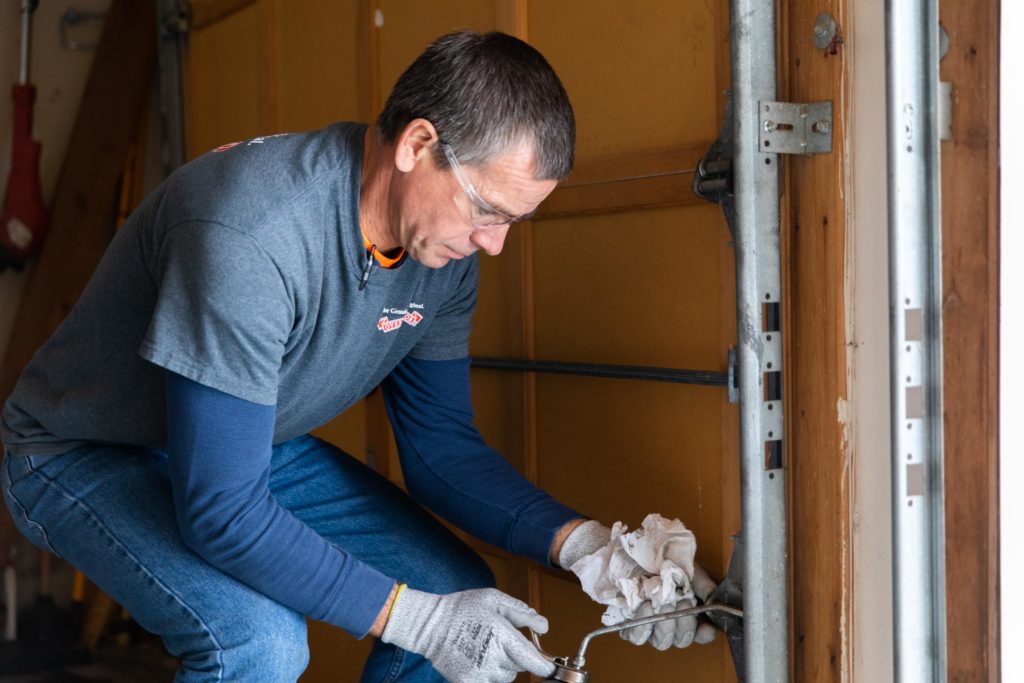 Garage Door Roller Replacement
Garage door rollers will roll smooth and efficient if everything is operating as it should. If not, you may have a wheel that's left its tracks. Our professional technicians can promptly repair any issues with your garage door rollers.
Garage Door Cable & Broken Spring Replacement
Usually packaged together, Garage door springs and cables are critical for the efficient operation of your door. Knowing when to replace these items can be a challenging task, however, so homeowners must frequently monitor their cables and springs for issues such as wear or rust. If repairs are needed, the expert technicians at Overhead Door Company of Castle Rock™️ can provide you with the service you need, including comprehensive inspection or repair.
Garage Door Tune-up, Safety Inspections, & Preventative Maintenance
It's important to prevent issues before they arise, in order to avoid costly major repairs down the line. That's why the expert technicians at Overhead Door Company of Castle Rock™️ recommend enrolling in a preventative maintenance program. These programs can save you time and money by providing routine inspections and full evaluations of your door. At the end of your inspection, we'll give you the best recommendations for your individual needs.
Wireless Keypads
Programmatic issues or physical damage to your wireless keypad can be difficult to correct without the proper experience and knowledge. Our professional staff can offer prompt service to repair or reset your keypad, and we can ensure the smooth operation of your door over the long term.
Additional Remotes
Need additional remotes? Our service technicians can program a new remote opener to sync with your garage door.
Highlight Your Home's Front
A team dedicated to unrivaled service, Overhead Door Company of Castle Rock™️ is Colorado's top choice for garage door installation, repair, and replacement. Call our office or click below to schedule service.
Need more info?
Contact us at any time for answers to all of your door repair, replacement, and installation questions.